El Niño 2019 – why is Philippines' Government much to slow again?
El Niño 2019. We warned already in November 2018 of an upcoming
El Niño. Now, 3 months later government makes noise.
Will they act? Why so late?
Official announcement on 01/11/2019
https://www.gmanetwork.com/news/scitech/weather/681023/looming-el-nino-to-affect-47-provinces-in-first-quarter-of-2019/story/?trending
During fall 2018 the north-equatorial stream of water showed water temperature above the average Pacific water temperatures. Almost nobody here cared. We did! Our post of November 10, 2018 should have risen the alarm flag of DOST/PAGASA. It didn't.
Sorry, they didn't. Bahala-na maybe. Or they suffered of Christmas and New Year hangover. Sorry Renato, you should check your staff more often.
El Niño 2019 is active, now!
The latest information show that El Niño is bringing dry weather all over the Philippines. For tourism it might be a gift but farmers are already or will be suffering of El Niño 2019 . While the south is still wet because of the encounter of the cold Amihan withe the warm Easterlies, the north is dry.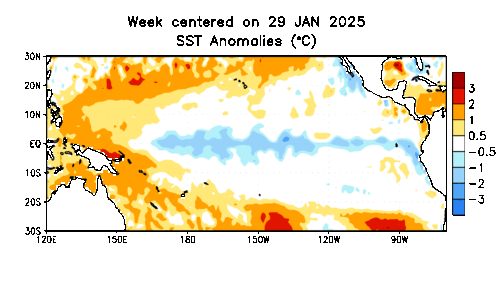 Please have a look at our El Niño / La Niña page.
Living for 10+ years in the Philippines, we try to understand local weather. It isn't easy to understand the local dynamic atmosphere. But there are good to excellent weather services that help us to provide you with daily weather forecasts and more. Please have a look on Philippines Weather and chose your topic.
Anyway, enjoy the warm and dry weather but please have a stock of good, fresh water. The months to come might be dry, very dry.