Philippines Crazy Year 2019 – Typhoons – Earthquakes and Weather
Philippines Crazy Year 2019 – Only 3 typhoons, over 12,000 earthquakes and much too dry weather in the south. A short look back on last year.
The title picture is from Frank at Tongatok Cliff Resort in Camiguin. We do not suffer from the usual grey and rainy winter weather in Camiguin. This is already the 3rd year in a row, when December and January are nicely fresh but not rainy.
Philippines Crazy Year 2019 – "Only" 3 Typhoons in 2019
Usually about 20 typhoons or tropical Storms cross over the Philippine islands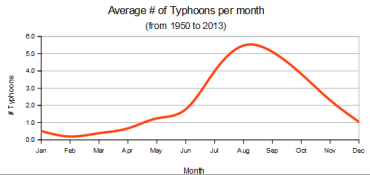 during one year. In a normal year the Typhoon Season starts by end of June and chills out in December. This image and more information can be found on our climate page. In 2019 the first typhoon over the Philippines appeared after mid-November!
Crazy, really crazy. Looking for an old photo on a recovered hard-disk, I stumbled over my old typhoon statistics from 2013. Happily I will update those old data and inform you as soon as possible. I have the strange feeling that something is changing,
KALMAEGI / Ramon
The first typhoon KALMAEGI / Ramon just brushed by in the northernmost point of the Philippines. On November 20, it hit Santa Ana, Cagayan instead of the Ilocos Region, and rapidly dissipated inland.

KAMMURI / Tisoy
The second typhoon KAMMURI / Tisoy hit the Bicol region as a category 4 typhoon. On December 3 it made landfall at peak intensity near Gubat in Sorsogon. On November 30, Kammuri produced possibly the record lowest known cloud top temperature at −109.4 °C (−164.9 °F).

PHANFONE / Ursula
The third nasty guy played silly tricks with many forecasters – including me. PHANFONE / Ursula was called 30W on late December 21. The JMA then upgraded the system to a tropical storm 6 hours later. But the JTWC still classified the system as a tropical depression.
The system proceeded to move into the Philippine Area of Responsibility on December 23, 5:00 am PST. On the same day, the JTWC finally upgraded the system to a tropical storm. Owing to favorable conditions, PHANFONE / Ursula intensified into a severe tropical storm on December 23. And it further intensified into a Category 2 typhoon shortly before making landfall near Salcedo in Eastern Samar.
It caused drastic flooding and mudslides in the region. As of January 2, 2020 the damages of the typhoon is estimated at $46.5 million and the death toll is already at 50.
All Typhoon Tracks by Wikipedia.
Philippines Crazy Year 2019 – over 12,000 Earthquakes
We do not have the correct number of earthquakes of 2019. In October PHIVOLCS, who provides us with the data, encountered a data glitch. Therefore we still lack of the earthquakes from 7 to 14 October 2019.
We recorded an average of 33 quakes per day. 11 tremors were strong with magnitudes over 6.0. Another 485 earthquakes were perceivable with magnitudes between  3 and 6. The big rest were weak vibrations. Here you can find the earthquakes from 2011 to 2020 on similar maps,
The most enigmatic event was and still is the giant earthquake swarm in South Cotabato. See also our article from December 17: "Earthquakes in Southern Mindanao – a Look in the Underground".
There are 3 volcanoes within this region. Unfortunately some aftershocks of the strong quakes showed strange signatures. Ross Stein says that because the volcanoes are about 15 kilometers northwest of the third, "peculiar" earthquake, "I would not expect seismicity there to be tectonic aftershocks, but, instead, events related to the volcano that were stimulated by the quake." And indeed, Stein and Temblor scientist Geoffrey Ely found just that in the data they analysed.
Philippines Crazy Year 2019 – the Weather
Weather is a local affair. I can only write about what I observed in my place. 
Clement Holiday Season
Already the 3rd year in a row we experience a rather clement weather in December and January. Usual grey and rainy skies have been replaced by much sunshine in a blue sky. It often rains heavily in the early morning hours. Around 7 or 8 AM the clouds disappear. The early birds can often observe beautiful rainbows over the Bohol sea.
Drought
After 2016 we encounter the second drought in spring. While the extremely dry weather lasted during 4 months in 2016, last year we only suffered 2 months of "no-rain at all". But many communities (barangays) experienced again fresh water shortage. Here in Agoho again we had no problems. Thanks to the water district people.


In 2016 the old volcano Daan was completely dry. Wildfires went over its slopes. Later all the hills were dry and brown. Fortunately nature recovered and the hills are green again.
Strange Habagat season
Habagat the south-west monsoon usually lasts from June to October. It blows sometimes strongly on the south-west coast of Camiguin.  But here on the north-west coast it brings a wonderfully fresh breeze. And Habagat brings a lot of sand to our beach. 
But last year had been crazy. The near cyclones in the Pacific ocean did not reach the Philippines. But they strongly enhanced the south-west monsoon. They sucked air over our islands like a vacuum cleaner. 
Instead having an up to 120 meters wide beach end of October, we had 0 (zero) meters. All the sand and all the trees on the beach had vanished – washed out in the sea.
OK. Now we got about 20 meters back of our beach. But coming home from abroad it hadn't been funny. Fortunately our sea-wall kept the sea away from our garden. Otherwise we could now catch fishes while fishing over our lawn.
Compare yourselves:
Our Beach in 2012

The straight line we encounter to begin of winter season.
Our Beach in 2016
Our neighbor stuck in some wood. Didn't help
Our Beach in 2019

Got near last year and isn't now wider than 20 meters. 
This remembers me of the funny slogan of 1980's youth in Zurich. "Cut down the Alps, free view on the Mediterranean Sea". Now with all the Talisay trees swept away, we have  again free view on Bohol island. 
Climate change or just seasonal variation? I am still too young to determine. 
I just observe and I report. It is about you to make conclusions.
But one thing is obvious: Philippines Crazy Year 2019 had really been crazy.
The Silent Gardens Team wishes you a happy New Year. May 2020 be a calm and cool year.
Cheers, waebi 
[GARD]